Terminix®: Your Elizabeth City, NC Termite Control Professionals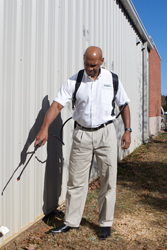 Termite damage can be a serious problem for home and business owners. If you think there may be a chance that there is termite infestation in your Elizabeth City home or commercial building, it's time to call Terminix®.

When you call Terminix®, a trained termite control specialist will arrive in 24 hours or less, inspecting for subterranean termites and outfitted with the most up-to-date termite treatment products to help you get rid of termites for good.
Custom Termite Treatments Get Rid Of Any Termite Problem
Like every customer, every termite infestation is unique. At Terminix®, we have years of expertise that we draw on to individualize a termite control treatment suited to each case.
Our guaranteed Elizabeth City, NC termite control options include:
The Terminix® Liquid Defend System™: This system creates an immediate termite treatment zone around and through your home's foundation.
The Terminix® Termite Baiting Program™: An alternative "GREEN" termite control option for Elizabeth City clients who are concerned about chemical usage on their property.
Offering The Best Value & Termite Control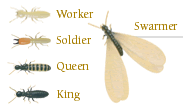 Not only do we offer the absolute finest termite treatments in the pest control industry — we stand behind our work with a 100% ultimate protection guarantee that pledges damage repair and free re-treatments as long as you are under contract!

Terminix® also offers other exclusive benefits, such as:
A $ 25,000 damage repair guarantee
Thorough property inspections that help prevent termite damage
Powerful termite treatments
Free inspection and price quote courtesy of a professional Terminix® termite exterminator
To learn more about our Elizabeth City, NC pest control for termites or to learn which termite treatment is right for you, call 1-800-BUGS-911 (800-284-7911) today to schedule a free initial consultation!