New Bern, NC Ant Control You Can Rely On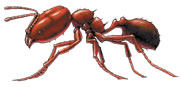 Are ants taking over your New Bern, NC residential or commercial property? Call the pest control technicians at Terminix® to regain control over your facility!
We offer custom ant control solutions to eradicate even your worst ant infestations. Contact us today and receive immediate relief from ants and all that implies!
Safely & Efficiently Get Rid of Ants with Terminix®
From our one-time ant treatment to long-term ant prevention, our New Bern ant control service delivers the proven results you're in search of. Our 80-plus years in the pest control business has equipped us with the knowledge and expertise we need to safely and effectively rid your Craven County home or business of ants.
One call is all it takes and we will have one of our dedicated pest control technicians at your New Bern property within 24 hours to initiate our ant control services with their:
Thorough inspection of your property and the surrounding area to determine the extent of the ant infestation.
Recommendation of the appropriate ant control services and products.
Immediate disbursement of ant control treatment to your New Bern home or business exterior and interior with our same-day pest control service.
Comprehensive Commercial, Residential Ant Control!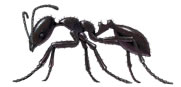 Terminix® ant exterminators are guaranteed to get rid of ants in and around your Craven County property. Our New Bern ant experts also trace the infestation back to its colony, killing the ant queen to ensure your property is completely ant-free–and stays that way.
With our 100% ultimate protection guarantee, you can rest assured that we stand behind our ant extermination services. Learn more about our professional ant treatments and to get rid of ants on your New Bern property today!
Contact us at 1-800-BUGS-911 (800-284-7911) to schedule a free, no obligation consultation! You can also request an appointment online by filling out our online form.