We Get Rid of Fire Ants in New Bern, NC
Fire ant stings are not only painful, they also pose a serious health threat to those who may be unknowingly allergic. Trust Terminix® to eliminate your fire ant infestation–and the painful fire ant stings that come with it!
Our New Bern, NC pest control technicians are trained ant exterminators who have the experience needed to safely and effectively eradicate your worst fire ant infestation and keep them at bay long-term! Contact us today to learn more about our proven fire ant treatment.
Fast & Effective Fire Ant Treatments by Terminix®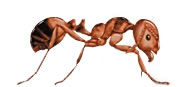 Terminix® has been on the front lines of fire ant extermination since the pest first migrated to the state in the 1950s. With our combined experience in the pest control industry and our use of the latest and most effective fire ant products and technologies, we have helped thousands of clients in Craven County and across North Carolina get rid of fire ants in their homes and businesses.
Our New Bern fire ant control and prevention plan is comprised of four steps:
Inspect. We'll determine the scale of your fire ant problem to help target treatments.
Identify. We'll identify the source of the problem and assess the size of the colony.
Treat. In the seasons that fire ants are most active, we'll apply a highly effective product called Extinguish Plus® which works against fire ants in two different ways: 1.) To eliminate the colony and, 2.) To ensure that it cannot be rebuilt.
Follow-up. Terminix® knows that effective fire ant control takes ongoing attention. As such, we offer regular follow-up visits to ensure your fire ant problem is gone for good.
To learn more about our New Bern fire ant control and preventative treatments, call 1-800-BUGS-911 (800-284-7911) to schedule a free initial consultation. Use our location finder to find the office nearest you.