Terminix®: The New Bern, NC Termite Control Experts
Did you know that termites cause billions of dollars in damage every year? It's true, and if the termite infestation is not promptly identified and eliminated it could result in even more costly repairs.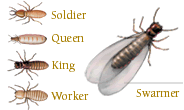 Give your New Bern, NC home or business the protection it deserves with our guaranteed termite control solutions! One call to Terminix® is all it takes and you'll have a certified termite exterminator at your home or commercial property within 24 hours to conduct an initial inspection and assess the presence of subterranean termites. Contact us today to learn more about our termite control and preventative methods.
Termite Control Solutions For Craven County & Beyond
Every termite infestation is different–as are the needs of the New Bern, NC residential or commercial properties they plague. To ensure you the ultimate termite control, Terminix® of New Bern offers you access to your very own termite exterminator to assist in the design of a custom termite control plan that perfectly suits your needs and that of your facility.
New Bern termite control plans include:
Terminix® Liquid Defend System™: This termite control system creates an immediate termite treatment zone around and through your home's foundation.
Terminix® Termite Baiting Program™: An alternative "green" termite control option, this helps minimize the usage of toxic chemicals on your New Bern property.
New Bern Termite Management: Offering Value & Peace of Mind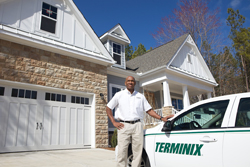 Terminix® of New Bern, NC is the pest control company of choice for homeowners and business owners in Craven County and the North Carolina community. But don't take our word on it…
Find out for yourself what our New Bern termite control treatments are all about. Each of our custom termite control and preventative services are backed by our 100% ultimate protection guarantee.
Terminix® termite control also includes:
A $25,000 damage repair guarantee
Thorough property inspections that help prevent termite damage
Large range of treatment options
Free inspection and price quote courtesy of a professional Terminix® termite exterminator
Interested in learning more about our New Bern termite control and preventative services? Contact us at 1-800-BUGS-911 (800-284-7911) to schedule a free, no-obligation consultation! Call now!