New Bern, NC Cockroach Control by Terminix®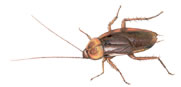 Cockroaches are notorious disease carriers that feed on human food and spread potentially harmful bacterial diseases as they go. Terminix® can help protect your New Bern, NC home from the threat of cockroach contaminations with its esteemed cockroach extermination service.
Roaches multiply quickly, so the sight of even a single cockroach could indicate an infestation of huge proportions. Contact us at your initial sighting of a cockroach and our pest control experts will move quickly to kill the roaches infesting your home–and protect against their return!
Cockroach Extermination Plans Craven Count Trusts
Terminix® offers quick response services to ensure cockroaches are exterminated before they have a chance to multiply. Our New Bern pest control technicians can be at your Craven County property within 24 hours of receiving your call to initiate the Terminix® cockroach extermination process:
Inspection: Terminix® first inspects your New Bern property to determine the severity of your cockroach infestation and the extent of treatments needed.
Elimination: We use industry-leading technology to effectively get rid of roaches in your New Bern home–no matter how bad the problem may be.
Prevention: Our New Bern pest technicians will inform you about different techniques you could use to prevent cockroach infestations in the future. They will also set up chemical barriers to discourage cockroaches from coming back onto your property.
Get Rid of Roaches Fast & Efficiently!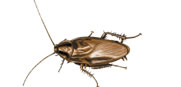 The 80-plus years of experience we have in the pest control industry puts us at the forefront of North Carolina's cockroach control efforts. Our Terminix® cockroach exterminators utilize a three-part approach to attack cockroach problems and prevent cockroach infestations from occurring in the future.
Interested in learning more about our cockroach control and prevention methods? Contact us at 1-800-BUGS-911 (800-284-7911) to arrange a free, no-obligation consultation! Call now!