The Fly Control Services Trusted by New Bern, NC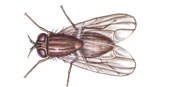 Did you know that flies pose health risks to your and your family? It's true. While these pest may only seem like a slight inconvenience, they are actually primary carriers of a number of harmful bacterial diseases.
Don't let flies contaminate the surfaces of your New Bern, NC home or business. Contact us today to get rid of flies in and around your Craven County residential or commercial property. We offer immediate response services to stop flies in their tracks and prevent the spread of germs.
Terminix®: Fly Prevention & Treatments You Can Count On
Since our inception more than eight decades ago, Terminix® has delivered fast and effective pest control in Craven County and across North Carolina. Locally, we protect our New Bern, NC customers from all types of fly infestations, including horse flies, fruit flies, house flies and other fly species.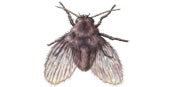 Terminix® fly control involves the use of insecticides as well as preventative solutions and is carried out in three stages:
Identification. Our fly control program begins with a free, no-obligation inspection of your home and property to identify and modify conditions that attract flies.
Treatment. We'll then propose a customized fly treatment to exterminate and prevent flies from nesting in and around your home.
Prevention. Every service is backed by our industry-leading 100% ultimate protection guarantee. If there is a recurrence, Terminix® will provide retreatments at no additional cost to you!
Get Rid of Flies in Your New Bern, NC Home!
Interested in learning more about our fast and effective fly control treatment and preventative measures? Contact us at 1-800-BUGS-911 (800-284-7911) to schedule a free, no obligation consultation. Call now!